11th Asia-Pacific Symposium
Singapore    September 22–23, 2018
Sofitel Singapore City Center
Co-Sponsored by
College of General Dental Practitioners Singapore

The World Clinical Laser Institute (WCLI) is putting on a symposium focused on laser application in periodontology, implantology, endodontics, restorative dentistry, pain therapy and others. The WCLI's Singapore Symposium will feature educational content suited for every dental professional.
This event will also include fascinating keynote addresses from leaders in the dental world, along with multiple social and networking opportunities to relax and make new friends while learning about new groundbreaking dental technologies. The WCLI's Symposiums are one of a kind in the dental profession! We look forward to seeing you there!

The World Clinical Laser Institute (WCLI) is more than an educational association of dentists seeking clinical knowledge and tips on the latest technologies in dentistry. The largest group of its kind, the WCLI is a closely knit network of thousands of dental professionals who share a passion for improving the patient experience, elevating their clinical results to the highest level, and building the best possible practice they can.
The WCLI has been putting on world-class educational events for over ten years. At this year's Taipei Symposium, dental professionals will improve their knowledge and techniques for established laser procedures, such as laser-assisted periodontal treatment, endo, implant placement, pain therapy and cosmetic dentistry.
Above all else, the WCLI's 2019 Asia-Pacific Symposium is a great place to see old friends, meet new colleagues and forge friendships with mentors from around the world.
It's a weekend of education and fellowship. Register today; don't miss out!
11th Asia-Pacific Symposium
September 22-23, 2018
Sofitel Singapore City Centre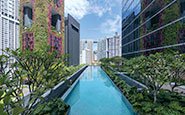 Dr Danesh-Meyer gained his BDS and MDS (with Distinction) from University of Otago. He subsequently taught at the University and was in full-time private practice limited to dental implants and periodontics in New Zealand prior to his academic appointment in the USA. From 1998-2000 he was Clinical Assistant Professor in Periodontology at Temple University, School of Dentistry in Philadelphia. He has been involved in preclinical and clinical research involving periodontal regeneration, GTR/GBR, rhBMP-2 and dental implants and authored numerous articles and lectured both nationally and internationally on these subjects. In 2000 he established the Institute of Dental Implants and Periodontics and the Auckland Clinical Training Centre in Auckland, New Zealand.
He is founder of the Auckland Dental Implant Forums and Dental Implant Network. Dr Danesh-Meyer is a Fellow of the International Congress of Oral Implantologists, ITI member, Faculty member for GIDE/UCLA Masters program in implant dentistry, Associate Clinical Lecturer, Graduate Diploma in Implant Dentistry, University of Sydney and is actively involved in teaching periodontics and implant dentistry to dentists, postgraduates and specialists. He has been using dental lasers in clinical practice since 2007 and in 2009 incorporated the WaterLase MD for both surgical and non-surgical periodontal and dental implant treatments. He is an Associate Fellow of the WCLI.

Dr. David Kim received his dental degree (D.D.S.) from the University of Maryland Dental School, and completed his periodontology training and Doctor of Medical Science (D.M.Sc.) in oral biology from the Harvard School of Dental Medicine. Currently, as an Associate Professor at the Harvard School of Dental Medicine, he is also the Director of the Postgraduate Program in Periodontology and the Continuing Education at the Harvard School of Dental Medicine.  
Dr. Kim's clinical and research interests have been on the use of innovative concepts, technologies and biomaterials to enhance intraoral soft and hard tissue formation, especially by incorporating the tissue engineering concept to repair and regenerate soft and hard tissue volume for patients requiring dental implants to replace missing teeth.  He has conducted several research projects utilizing laser in treating periodontal diseases as well as treating peri-implantitis and they have been published in peer review journals.
Dr. Kim is a past recipient of the Joseph L. Henry Award recognizing excellence in research and clinical training from Harvard. In addition, he received Balint Orban Research Award, Award for Outstanding Teaching and Mentoring in Periodontics, and Teaching Fellowship from the American Academy of Periodontology.  He is a diplomat of the American Board of Periodontology and maintains a clinical practice in Boston, Massachusetts, USA.

Dr. Kolnick received his B.D.S. cum laude from the University of the Witwatersrand, in Johannesburg, South Africa. He was the first dental school graduate to be awarded the prestigious University Scholarship for Overseas Postgraduate Study. In 1982, he completed his postdoctoral endodontic training at Columbia University School of Dental and Oral Surgery in the City of New York.
For the past 35 years, Dr. Kolnick has been in private practice limited to endodontics in Westchester County, NY. His practice, Advanced Endodontics of Westchester, includes a partner and three associates and is dedicated to fostering excellence in endodontics through education and the incorporation of the latest technology. In 2011, Dr. Kolnick created The Endodontic Microsurgery Group in a unique, state-of-the-art facility dedicated entirely to endodontic microsurgery and sedation.
Dr. Kolnick has been committed to endodontic education, first as an Associate Clinical Professor in Endodontics at Columbia University and then as an Attending at Westchester Medical Center and an Associate Clinical Professor in Endodontics at New York Medical College. Although he no longer holds these positions, he continues to lecture extensively on a local, national and international level and has published several articles on endodontics.

Ki-Tae Koo DDS, MS, PhD. received his Dental Degree at Yonsei University in Seoul, Korea. He then obtained his Master of Science degree in Oral Biology from Temple University in 2003. During this time he also received advanced training in periodontology. In 2007, Dr. Koo received his Doctorate in Periodontology from Yonsei University in 2007. He is currently an associate professor and program director at the School of Dentistry, Seoul National University as well as the former Assistant Dean of Academic Affairs. Additionally, Dr. Koo serves as an adjunct professor at Georgia Regents University. He has numerous clinical publications in various reference journals and continues to conduct research in areas such as: bone biomaterials, periodontal wound healing, and craniofacial tissue engineering.
Dr. Jerry C. Lin received his certificate in periodontology and Doctor of Medical Science in Oral Biology from the Harvard School of Dental Medicine. He is a board certified and Diplomate of the American Board of Periodontology. Dr. Lin teaches as a lecturer at the Harvard School of Dental Medicine and as an assistant professor at the Taipei Medical University. He is also a clinical instructor in periodontics and implant dentistry at the National Taiwan University Hospital. Dr. Lin has involved in leading the periodontal literature review course at the National Taiwan University since 2007. He is also the board director for the Academy of Dental Implantology, ROC. Dr. Lin is the founder and director of the Institute for Advanced Dental Education (iADE) where comprehensive periodontal and implant training courses have been offered since 2007. In addition to his commitment to dental education, Dr. Lin has an ongoing career as a periodontist in his own private practice in Taipei.

Stanley Y. Yasuhiro, DDS has been practicing general dentistry for 32 years, and is currently practicing in Guam, Marianas Islands. He has been a Biolase laser dentist for 15 years, using the Millennium, MD and the iPlus. He was trained as a Biolase laser field service technician initially in 2000, then recertified in 2005, and just recently recertified again in 2015. A graduate of Marquette University School of Dentistry in 1983, he received the Pierre Fauchard Academy Award.
Jurisdictions to practice dentistry include the states of Wisconsin and California, and Guam. In Guam, he was a member of the Guam Board of Examiners for Dentistry, and later became chairman of GBED for 3 years, also the dental director for Ayuda Foundation, two term President for Guam Dental Society, the National Liaison for GDS for over 15 years. He is a member of American Dental Association, FDI, Asia Pacific Regional Organization, Guam Dental Society, and past member of Guam Board of Examiners for Dentistry.
Interests in dentistry include Occulsal Rehabilitation, Full Mouth Reconstruction, Dental Implants Surgery and Prosthetics, TMD treatment and Laser Dentistry. He has lectured on prosthetics and laser dentistry in Hawaii and Japan.

Dr. Chua received his B.D.S. from National University of Singapore. While serving his government bond in National University Hospital and Singapore Armed Forces, he was exposed to advanced restorative and surgical procedures.
His strong desire for continuous education led Dr Chua to train locally and overseas in the fields of Posterior Aesthetic and Same Day Crown or Restorations at Interdisciplinary Dental Education Academy (IDEA) in the United States of America. His interest in facial aesthetics led to his pursue of Certificate of Competency for botulinum toxin and dermal fillers. He is also a Digital Smile Design member.
Dr Kelvin Chua has also been appointed as a teaching assistant for an Academy of Laser Dentistry certification course held in Singapore. Kelvin is currently on the Executive Council of College of General Dental Practitioners Singapore and was an organising chairperson for one of their laser symposiums. He is also a member of Singapore Dental Association, Medical Alumni and American Dental Association.

Dr. Yue Weng Cheu completed his BDS degree at the National University of Singapore and was awarded The Pierre Fauchard Academy Foundation Annual Scholarship Award. He was elected Fellow of the Royal Australasian College of Dental Surgeons, Fellow of the International College of Dentists, Fellow of International Congress of Oral Implantologists, Fellow of the World Clinical Laser Institute. He is also a Member of the Joint Dental Faculties of the Royal College of Surgeons, England. An ISCD-Certified International CEREC trainer (Paris 2010, Istanbul 2012 and Barcelona 2014). He has also obtained his Certificate of Oral Implantology from Frankfurt University.
Dr. Yue Weng Cheu completed the full TMD continuum at Occlusion Connections under the tutelage of Dr Clayton Chan. Dr Yue has been lecturing and conducting hands-on courses on Clinical Digital Photography, CAD-CAM, Laser Dentistry and TMD. He is the Clinical Director of DP Dental and his six-chair practice focusing on integrated utilization of advanced dental technology such as Laser, CAD-CAM and 3D jaw tracking and imaging to enhance diagnostic and therapeutic outcomes for his patients.

Dr. Christopher J. Walinski
Christopher J. Walinski, DDS has been an author, inventor and innovator in Laser Dentistry for almost two decades. His 2003 text on laser dentistry has been published in over ten languages. He is a Founding member of the American Academy of Oral Systemic Health, a Diplomate and Past-President of the World Congress of Minimally Invasive Dentistry, and is the only American representative on the Editorial Board for the Indian Society for Oral Laser Applications, based in Mumbai.
He was a founder of, and is the Executive Director of the World Clinical Laser Institute (WCLI), from which he has received Mastership certification, and has Laser Certifications through the Academy of Laser Dentistry. Dr. Walinski is the Editor-in-Chief of the Journal of Laser Assisted Dentistry, and maintains a part-time private practice. He is Associate Professor and Director of Laser Dentistry at The University of Tennessee College of Dentistry and is a Visiting Professor at Harvard University and Taipei Medical University College of Oral Medicine, emphasizing dentistry using lasers and other technologies.
Dr. Michael Danesh-Meyer (New Zealand) — Periodontics, Implantology
Laser Management of Periodontal and Peri-implant Tissues in Health and Disease
This lecture will review our current understanding of periodontal and peri-implant infections and how different treatment modalities can be used to manage such infections. We will explore how the unique properties afforded to us by lasers may assist us in providing adjunctive or alternative therapies to enhance treatment outcomes and patient satisfaction. Ultimately, providing superior treatment to our patients requires a combination of specific protocols and processes based on evidence, implemented by appropriately trained and skilled clinicians, who have been enabled with the latest technology.
Dr. David Kim (USA) — Periodontics
Laser Applications in Periodontics: Truth or Myth
The loss of periodontium to inflammatory periodontal disease is commonly noted in the form of infrabony and furcation defects. The optimal treatment for such defects is to regenerate the lost structures to the maximum degree rather than the resective treatment that is predictable and applicable for shallow defects. However, true periodontal regeneration is a complex process requiring a cascade of events resulting in the formation of new alveolar bone, cementum and periodontal ligament (PDL) inserted in a functional arrangement. The evolution of scientific knowledge regarding periodontal regeneration in combination with the availability of new devices such as dental laser have encouraged clinicians to select therapeutics that are promoted to be predictable and efficacious. This presentation will allow clinicians to see what we can offer to patients when we utilize the latest technological advances that are available to clinicians.
Dr. Justin Kolnick (USA) — Endodontics
Emerging Trends in Endodontics
For many years, endodontic therapy has enjoyed a high success rate. However, with the introduction of CBCT many 2-D "successes", as seen on standard periapical radiography, have been shown to still have evidence of apical periodontitis in 3-D. These 3-D failures have not only led to a re-evaluation of our definition of success but also to a reassessment of current treatment protocols. The recent introduction of minimally invasive treatment concepts has further complicated the situation. While it is generally accepted that preservation of more tooth structure is desirable and will improve the longevity of endodontically treated teeth, the more conservative access cavity preparations, minimally tapered canal preparations and smaller apical sizes have restricted access to the most critical part of the canal system, the apical third.
The use of lasers in endodontics is now emerging as one of the most efficacious treatment modalities available to manage the complexities of the apical third of root canal systems, especially within the confines of minimally invasive treatment protocols. Successful integration of lasers into endodontic protocols requires not only a grasp of advanced endodontic principles but also an understanding of the advantages and limitations of lasers themselves. This lecture will review basic and advanced laser applications in endodontics and help build confidence in the management of more complex cases. Topics covered will include laser-activated irrigation and disinfection as well as clinical issues such as dystrophic calcification, loss of patency, perforations, resorption and management of the apical foraminal canal.
Professor Ki-Tae Koo (Korea) — Periodontics
Laser and Alveolar Ridge Preservation of Severely Compromised Extraction Sockets: a Win-Win Combination
Dr. Jerry C. Lin (Taiwan) — Periodontics, Implantology
A Novel Approach: Laser-assisted Soft Tissue Root Coverage for Natural Teeth and Augmentation Around Implants
Both of the Subepithelial connective tissue graft (SCTG) and autogeneous gingival grafts (AGG) graft have long been used as the graft material for a variety of clinical situations. The SCTG is widely used for both root coverage and soft tissue augmentation, while the AGG is mainly used for the epithelialized gingival graft to gain keratinized tissue. It was not until the de-epithelialized gingival graft technique performed by a 15C blade has been developed to obtain dense connective tissue that the AGG could be served as the source of the connective tissue graft.
A novel de-epithelization technique with the aid of Er,Cr:YSGG dental laser was innovated, which facilitate an intraoral way to visualize and control the process. This presentation will introduce this novel technique with the support of the histological evidence as well as the clinical applications. The de-epithelialized AGG can be successfully used for treating gingival recession via root coverage procedures, for achieving soft tissue augmentation around implants and obtaining keratinized tissue with better color match. In addition, a clinical comparison of the treatment outcomes between the de-epithelialized AGG graft and other types of grafts including the tissue substitute will also be presented. The laser-assisted de-epithelized AGG technique has been proved to be a reliable approach to provide dense connective tissue grafts for various clinical applications. The objective of the presentation is to describe the technique and encourage the audiences to adopt the new approach.
Dr. Stanly Yasuhiro (Guam) — Restorative Dentistry
Practical Application of Laser for General Dentistry
Much has changed since 2000, when the BIOLASE Millennium Er Cr YSGG laser was first used as a hard tissue laser in dentistry. After 18 years of clinical experience and research, the current techniques in the use of iPlus for Restorative Dentistry, the bread and butter for General Dentists, will be discussed. Do's and don'ts of laser prepping and bonding will be touched on. Such topics as laser ablation effects on enamel and dentin, preparation design, and efficiency of laser prepping for restorations will be shown. Clinical cases will be shown to help visualize the points that will be presented.
Dr. Kelvin Chua (Singapore) — Cosmetic Dentistry
Digital Smile Design and Laser Dentistry: The New Frontier for Gummy Smile Management
Digital Dentistry has simplified the workflow for clinicians and made clinical outcome more predictable. In the lecture, we will discuss how with digital planning and understanding the framework of a nice smile especially the gingival architect can allow predictable laser gingival contouring without the need for surgical stent. Comparison between diode and erbium laser for laser gum contouring will be discussed and also how laser dentistry has a role to play in multi disciplinary management of aesthetics cases. Of course no lecture is completed without covering the fundamental discussion on gummy smile, on how management differ for different presentations of gummy smile.
Dr. Yue Weng Cheu (Singapore) — Advanced General Dentistrye
Wellness through the Power of the Tongue — Laser in managing Restrictive Frenums
The concepts of Linguadontics trace the origins of function and neurology of the stomatognathic system, we learn to appreciate the abundance of resources made available to it for a 'simple' act of breastfeeding. The coordination of the cranial nerves and other important innervations facilitate the harmonious yet effective operations of many muscles to aid the innate suck-swallow-breathe and rooting reflexes to help babies feed.
The rise of the tongue from babies to geriatrics signifies the myofunctional habituation to ensure good oral growth and development, postural alignment, gastrointestinal health, neurological balances, airway health and much more. We seek to explore the collaborative approaches from many groups of healthcare providers in returning an individual to good state of health.
The scope is wide and the lecture will explore a tongue-centric, airway focused and myofunctional approach to health management.
Dr. Christopher J. Walinski (USA) — Advanced General Dentistry
Innovations and Updates in Laser Dentistry