Passive Ultrasonic Irrigation Techniques to be Replaced
by Laser Photo-Acoustics in Root Canal Treatment.
Please contact [email protected] to obtain a printed copy of the current issue of JLAD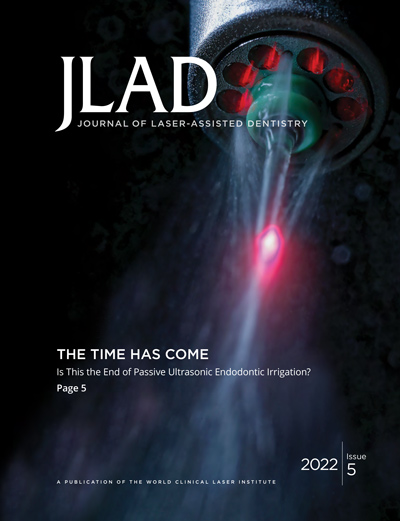 A Landmark 6-Month Comparative, Randomized, Blinded, Multi-Center, Clinically Controlled Study
Re-Establish Bone to Implant Contact
Human Histologic Evaluations of the Use of Er,Cr:YSGG Laser to Decontaminate an Infected Dental Implant Surface in Preparation for Implant Reosseointegration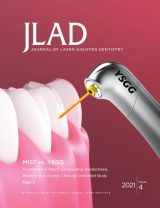 TRENDS IN LASER DENTISTRY
As laser technology has and is influencing our life in many ways, its advancements in the field of dentistry will continue to play an integral role in patient care for years to come.
FOCAL POINT: MINIMALLY-INVASIVE FLAPPED & UNFLAPPED MANAGEMENT OF PERI-IMPLANTITIS USING ER,CR:YSGG LASER
Peri-implantitis is defined as an inflammatory process around an implant which includes soft-tissue inflammation and progressive loss of supporting bone.
MASTERING MINIMALLY INVASIVE HARD-TISSUE PROCEDURES
The perception of lasers has advanced dramatically over the years; yet the question about hard-tissue use of lasers seems to persist. 
FOCAL POINT: UNDERSTANDING DENTAL ANALGESIA FOR LASER TOOTH PREPARATIONS
One of the keys to laser dentistry is successfully achieving laser analgesia so that procedures are comfortable and pain-free. In our Focal Point feature, Dr. John Hendy provides an overview of dental analgesia and explains how laser energy affects the behavior of neurons, which blocks pain signals to the brain.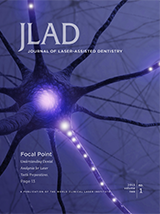 RESONATING ON A GLOBAL SCALE
It was 14 years ago that a group of dental professionals, galvanized by the possibilities of dental lasers, came together to form the World Clinical Laser Institute (WCLI). Back in Y2K, dental laser technology was just emerging. Dental lasers showed exceptional promise, but protocols and clinical efficacy were not well defined – or accepted – by many in dentistry.
PERIODONTAL DISEASE: MEET YOUR NEW WORST ENEMY
For years, researchers, periodontists and general dentists have utilized Er,Cr:YSGG lasers as an adjunct to traditional periodontal treatment techniques. Now, with a definitive periodontal protocol in place, Er,Cr:YSGG laser owners have a guide for treating moderate to severe periodontitis with ideal clinical results.