The world's largest dental laser education organization, with over 19,000 members
The WCLI Institute is dedicated to teaching dentists and their staff how to successfully integrate these technologies into their practices. Members share the goals of providing patients with the safest, most comfortable treatment experience, improving clinical results, and making dental practices more productive and prosperous.
The WCLI Institute combines education, fellowship, and fun at major annual symposiums in the US, Canada, Europe, and the Far East and at many local and regional symposiums and seminars in the US and abroad. These meetings are excellent opportunities to learn the latest approaches to integrating technology to improve every aspect of your dental practice.

Founder of the World Congress of Microdentistry. Past President of the ALD and AACD Board Member. President of Cosmetic Dental Materials, Inc. Brings over 12 years of dental laser experience and leadership to the WCLI.

Dara Rosenberg
DDS, MS, MPH, FACD
Director of the Department of Dentistry at St. Barnabas Hospital, and on the faculty at Columbia University School of Dental and Oral Surgery. A fellow with the American College of Dentists. Has focused career on hospital and public health dentistry.

President of the World Congress of Microdentistry. Past President of the ALD, A true pioneer and innovator in the use of dental lasers since the 1980s. Travels extensively, lecturing on laser dentistry throughout the world.

Steven I. Skurow
DDS, FAGD
A graduate of Ohio State University, College of Dentistry in '67, Dr. Steven Skurow is past president of the So.Cal. Academy of General Dentistry, president elect of the California Academy of General Dentistry, on the board at Citrus Valley Health Foundation.

Arnold Valdez
DDS, JD, MBA, FAGD, MAGD, ABFD
Dental, Business and Law degrees combined with an innovative multi-laser practice. An accredited forensic dentist. Dr. Valdez provides the WCLI Executive Board with a unique perspective and enormous skills.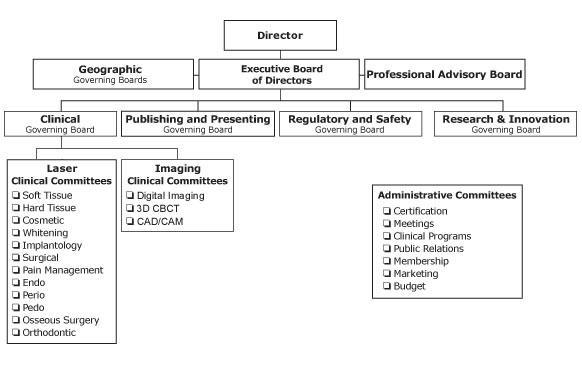 Dr. Rana Al-Falaki has been a UK registered specialist in periodontics for over 10 years. She has been an undergraduate and post-graduate clinical lecturer, and a consultant at Barts and The London School of Medicine and Dentistry. Most of her time is now spent in specialist practice, as well as lecturing worldwide. She was the first UK periodontist to use lasers in her daily practice. She has a fellowship in Laser Dentistry and advanced certification in the use of WaterLase. She is conducting research on its applications and also lectures both in the UK and internationally on the subject and is pioneering its use in this field. She has published articles and presented research on the use of Er,Cr:YSGG laser, on both periodontology and peri-implantitis, is an honorary lecturer for Guys Dental School, University of London, a guest lecturer for the Laser MSc in Genoa University, a visiting professor to the Medical University of Taipei, a key opinion leader and laser trainer in the UK, and founder of the Global Periodontal Laser User Society.

Prof. Norberto Berna graduated with first class honours in Medicine and Surgery at Rome University "La Sapienza" in 1986 where he specialized in Odontostomatology. He has been using different lasers daily, for more than 23 years. In May 2003, after he had experimented and placed implants on some patients, he registered his method patent (US 7,615,047 B2) where the use of drill in osteotomy implant is completely replaced by laser light to augment the contact surface between bone and implant and improve prosthesis emergence profiles. He has been delivering lecturers nationally and internationally for many years promoting and introducing his laser surgical techniques all over the world.

Dr. Les Binkley, Jr. graduated from the University of Tennessee with a BS in Food Technology in 1970. He then graduated from the University of Tennessee College of Dentistry in 1974. During his last year in dental school and first two years on the dental faculty, he completed his research on wound healing comparing wound healing with antibiotics. He then graduated with Masters of Science and a Residency in Periodontology from The Ohio State University in 1978. He began his private practice in Periodontics in Memphis, Tennessee and part time member of University of Tennessee Department of Periodontology. He has maintained a full time practice in Periodontics for 35 years and has taught undergraduate periodontal surgery and occlusion course for many years. He now teaches in the Graduate Periodontal Program as course director of both first year periodontal surgery and sedation courses. Dr. Binkley has published six articles in the peer review periodontal journals and has given seminars in several countries as well as United States. His practice is mainly the treatment of periodontal disease, gingival grafting and crown lengthening.

Peggy Blackburn has worked as a Dental Hygiene Consultant & Dental Coach for seventeen years. After many years as a Senior Consultant for JP Consultants, she then served as Co-Director of Comprehensive Hygiene with LVI Global. In addition to practicing dental hygiene in her local community for over twenty years, Peggy continues to consult, coach, and provide technology training through her own company, Dental Team Development. Peggy also serves as Co-Director of Dental Team Advancement. Seventeen years of her 20 year hygiene career Peggy has been using lasers. She has coached and consulted with 100's of dental practices nationwide, as well as provided Laser Certification and Micro Ultrasonic hands on training. Peggy is a national speaker, a published author and an associate instructor and lecturer for the International Center for Laser Education (ICLE) and the World Clinical Laser Institute (WCLI).

Dmitri Boutoussov
PhD. former Chief Technology Officer, BIOLASE, Inc.
Dmitri Boutoussov graduated from Polytechnical University in St. Petersburg, Russia in 1987. He obtained his Ph.D. degree three years later at Ioffe Physical Technical Institute, Russian Academy of Sciences, in the department of Semiconductor Devices, where the world's first semiconductor diode lasers were built. Since 1992, Dmitri has been involved full time in research, design and applications of medical and dental laser systems. Dmitri also headed up the team at BIOLASE responsible for designing and developing Waterlase laser technology.

Dr. Broome graduated from the Medical University of South Carolina. Prior to his dental education, he received his BS in Biological Science and Marketing from Clemson University and his MBA from Wingate University. His talent and passion for smile design is a combination of skills derived from extensive training and an artistic eye. He is a sustaining member of the American Academy of Cosmetic Dentistry, has obtained Mastership status in the World Clinical Laser Institute. Dr. Broome has published numerous clinical articles focused on techniques and technology. Dr. Broome enjoys sharing his knowledge through training and coaching other doctors and staff members on topics such as cosmetic dentistry, practice management, and integrating technology into the dental practice.

Dr. David Browdy graduated from The University of Pennsylvania in 1970. As a graduate of Tufts School of Dental Medicine in 1974, Dr. Browdy completed his postgraduate Endodontics training in 1976 from New York University. Dr. Browdy academically and clinically employs the latest cutting edge techniques in the specialty of Endodontics. He received his masters certification, the highest honor conferred by the World Clinical Laser Institute. Dr. Browdy is an international speaker and an author on clinical laser Endodontics. He has been in solo private practice limited to Endodontics in Lynbrook, NY since 1977.

Dr. Bruce Cassis is a 1980 graduate of West Virginia University School of Dentistry. Dr. Cassis maintains a dental practice in Fayetteville, West Virginia. He is a member of the Academy of General Dentistry, American Academy of Cosmetic Dentistry, American Dental Association, American Association for Functional Orthodontics, Dental Organization for Conscious Sedation, West Virginia Dental Association, and The West Virginia Academy of General Dentistry. He has successfully trained hundreds of dentists in implementing laser procedures into their practices. Dr. Cassis earned his Mastership Certification from the World Clinical Laser Institute in January of 2005, and Master in the Academy of General Dentistry in June of 2007.

Dr. Chaumanet is graduated from the University of Nantes in 1983. He is Professor a.c. at the University of Cagliari in Italy. He hold a private practice in oral surgery and implantology in Villeneuve Loubet in France and Verona in Italy. He hold different masters in Laser, Periodontology, Implant therapy, Oral surgery, Radiology and Anatomy. He is President for France of Society for Oral Laser Application (SOLAFr) and President for France of Academy of Laser Education (ALE), Ambassador of Global Oral Implant Academy (GOIA), Active Member of CENALOS, Member of French Society of Medical Laser (SFLM), Member of International Academy of Periodontology (IAP), Member of Italian Society of Oral Surgery(SICO), Member of AGLZ Academy, Member of International Congress of Oral Implantologist as well as Member of other different Scientific Comities of Societies.

Dr. William Chen is the author of "The Clinical Applications of the Er,Cr:YSGG Laser Systems", which is the first and the only textbook on Waterlase Technology. He graduated from Washington University School of Dental Medicine and has been in private practice in Granite City, IL for over 33 years. He was the chief investigator for Biolase in getting FDA approval for Laser Root Canal Therapy and Laser Bone Applications. He is a Master of the World Clinical Laser Institute and an Educator of the Academy of Laser Dentistry. His honors and awards include Fellow of the American College of Dentists, Fellow of the International College of Dentists, Fellow and Master of the Academy of General Dentistry.

Heidi Christopher currently practices as a clinical hygienist, as well as owns a staffing service, TDH Employment Referrals, which specializes in job placement of dental hygienists with advanced skills. Through her company, Heidi is a Continuing Education Provider for the California Dental Board. Heidi serves as director of education services at Dental Team Advancement, an education and consulting firm, is an associate instructor and lecturer for the International Center for Laser Education (ICLE) and the World Clinical Laser Institute (WCLI). Heidi has been working with and researching soft tissue lasers for eight years. She is a published author and lectures throughout the country. Heidi has been a member of the American Dental Hygiene Association, the California Dental Hygiene Association, the Academy of Laser Dentistry and the Northern California Laser Study Club.

Dr. Mark Cronshaw is a private practitioner in Cowes, Isle of Wight. He qualified from Guys Hospital in 1984 and is a long established and highly experienced post graduate trainer. Dr. Cronshaw has developed an interest in high tech dentistry, aesthetic and cosmetic dentistry, minimally invasive techniques and holistic care. Dr. Cronshaw is a Fellow of the WCLI and also a Fellow of the International Academy for Dento-Facial Esthetics.

Dr. Christina Do is a graduate of Loma Linda University School of Dentistry. In addition to her private practice, Dr. Do has lectured extensively on the development and trends in laser dentistry throughout the nation and at local dental conferences. Dr. Do has been featured in the California Dental Association newsletter for her animated children's educational DVD. Her "ToothTales" DVD has received numerous accolades including 1st place for People's Choice. "ToothTales" was so widely received which resulted in numerous additional episodes. Dr. Do has also been featured on the show "The Doctors" for her expertise in laser dentistry. Dr. Do is also actively involved in providing dentistry to citizens of countries where there is little access to modern dental care.

Dr. Bret Dyer attended Baylor College of Dentistry to receive his DDS degree. He earned a Master of Science in Periodontics at the University of Texas Dental School in Houston. Dr Dyer is a Diplomate of the American Board of Periodontology and has a Mastership certification from the WCLI. Dr. Dyer is in private practice in Sugar Land, TX. He was one of the first periodontists to receive a grant for research in private practice from the American Periodontal Foundation. He has published in reference journals on his research in guided tissue regeneration. Current research projects utilize the laser for regenerative and cosmetic periodontal procedures. Dr. Dyer lectures nationally and internationally on laser applications in periodontal treatment and implantology.

Dr. Eshom is a general dentist who emphasizes dental health and beauty for his patients in his private practice in San Diego, CA. He has his undergraduate degree in business and his DDS from the University of Pacific. He is an accredited member of the AACD and served six years on the Board of Directors the AACD and is presently Co-chair of the annual meeting/education committee for AACD. He lectures domestically and internationally on practice management, cosmetics and laser dentistry. His practice was honored by being featured on the cover of Dental Economics magazine. Recently, he was honored with an award for cosmetic practice of the year in Contemporary Esthetics magazine. His practice of 25 years uses high-tech instruments to make the dental experience for his patients comfortable and unique.

Dr. Dave Fagan began his scientific career as a Research Chemical Engineer working on a variety of Military and Lunar Exploration Projects for NASA at North American Aviation in Southern California. He attended Dental School at the University of the Pacific in San Francisco, and thereafter established, directed, and maintained a Multi-Specialty, Dental Group Clinical Practice employing a dozen dentists, and more than 100 para-professional staff with three locations around the San Francisco Bay area. His association with Veterinary Dentistry began with the transfer of cutting-edge clinical technology from the fields of human dentistry, medicine, and bio-technology to veterinary medicine during the five years he was a guest clinician / lecturer / researcher working with the large animal surgery staff at the University of California Veterinary Medical Teaching Hospital at Davis. 

Dr. René Franzen is a physicist at RWTH Aachen University, Germany. He is a lecturer for physics, optics, laser technique, safety and biophysics in the postgraduate master program of Lasers in Dentistry. Dr. Franzen has worked on several research projects on ablation of hard tissue and general research about water-mediated hard tissue ablation with medical lasers. He also directly assists with the development and testing of many medical laser products.

Dr. Michael L. Gelb of New York is an innovator in sleep apnea, painful TMJ disorders, and other head and neck pain disorders. Dr. Gelb has studied breathing related sleep disorders (BRSD), specializing in how they relate to fatigue, focus, pain, and the effects all of these can have on a person's life. Dr. Gelb, 50, received his D.D.S. degree from Columbia University School of Dental and Oral Surgery in 1982 and his M.S. degree from SUNY at Buffalo School of Dental Medicine. He is the former Director of the TMJ and Orofacial Pain Program at the NYU College of Dentistry and is also Clinical Professor in the Department of Oral Medicine and Pathology at the NYU College of Dentistry, Division of Basic Science. He is a Clinical Assistant Professor at Tufts University in Boston. He was awarded Diplomate of the American Board of Orofacial Pain in 1995. Dr. Gelb is a co-inventor of the NORAD, or Nocturnal Oral Airway Dilator appliance that reduces snoring by positioning the patient's tongue and jaw so that airways stay open. He has also updated the Gelb or MORA appliance, named after his father and has 3 patents pending for sleep and pain management.

Dr. Howard Golan is a graduate of the University of Michigan School of Dentistry. He completed a general practice residency at North Shore University Hospital on Long Island, NY. After his GPR, Dr. Golan completed a two-year Implant Surgery and Advanced Prosthetic Fellowship at NSUH. He has maintained a busy private practice on Long Island that he shares with his father Dr. Marshall Golan. Dr. Golan implemented lasers into his practice in 2004 and has attained his Mastership certification in the World Clinical Laser Institute. Dr. Golan has been fortunate to be asked to lecture and teach laser-assisted dentistry throughout the United States and Internationally. He is the co-founder of the Center for Laser Education and is a faculty member with the World Clinical Laser Institute teaching Certification Training Courses for that organization.

Dr. Stefan Grümer is head of scientific board of USLD, Ukrainian Society for Laser Dentistry. From 1998 to 2010, Dr. Grümer was the director of a private clinic for Periodontology, Implantology and laser-dentistry in Muelheim, Germany. He has several publications in national and international dental journals on laser applications and is a speaker/lecturer in different scientific national and international congresses. Since 2011, he has been a scientific and academic co-worker at AALZ, Aachen Dental Education Center, RWTH Aachen University, Germany for clinical laser applications. Dr. Grümer's memberships include: WFLD, DGL, DGI, DGZMK, BDIZ, DGZI, ICOI, IHCF, DGCZ, WALED.

Norbert Gutknecht
DDS, PhD
Prof. Gutknecht studied medicine and dentistry from 1979 – 1989 at the Universities of Bochum, Florence and Aachen. Since 1989 he works as a scientific researcher at the University Hospital of the RWTH Aachen University. In 1990 and 1992 he did scientific research studies in the field of dental laser therapy at the UCSF University California San Francisco, USA. In 1993 he completed his Doctoral Thesis "Dr. med. dent" (PhD). In 1995 he received his " Master in application of Nd:YAG lasers in dentistry" in Phoenix – Arizona, USA. In 1998 he became an Asoc. Professor at the Department of Operative Dentistry at Aachen University Medical and Dental Faculty. In 2003 he was appointed as a Full Professor at Aachen University, Medical and Dental Faculty.

Dr. John Hendy graduated from University of California at Riverside in 1974. He graduated at the top of his class in 1977 from the University of the Pacific Dental School with membership in TKO and OKU dental honor fraternities. During dental school a first place was won for scientific research from the ADA. He also presented his research paper to the IADR in New York. Dr. Hendy is diplomate of the National Board of Dental Anesthesiology and maintains a fellowship. He also has a fellowship and a mastership with the World Clinical Laser Institute. His research into laser perio has resulted in a patented tip design for the YSGG laser.

For more than 20 years, Dr. Chris Kammer has been at the forefront of emerging technologies and approaches in dentistry, and has become America's most active advocate for the "oral systemic" approach of disease prevention. His work with the oral systemic approach, a recent movement in medicine and dentistry that improves general health by optimizing oral health, has helped many of his patients gain increased resistance to chronic disease, including heart disease, stroke, diabetes, some types of cancer, and Alzheimer's, as well as pre-term birth, and obesity. His work in cosmetic dentistry has helped to change dental protocol in America and abroad. Dr. Kammer also trains dentists to serve as media spokespersons through his Dental Media Power seminars, is a former chief dental consultant for Reader's Digest, and has been quoted in many publications, including USA Today, The New York Times, Cosmopolitan, Redbook, and Woman's Day.
Tim Kelly, DDS, a graduate of Creighton University Dental School, has held a WCLI Mastership since 2004, and in 2007 completed ALD parts 1 and 2 AP. Dr. Kelly is also a member of the AGD, ADA, MDA, AASMD, and LVI. He has been using diode lasers since 1995, and WaterLase since 2002. Through 25 years in private practice, he has performed more than 30,000 WaterLase cavity preparations and over 15,000 laser soft tissue procedures, as well as using diode and WaterLase lasers in crown preparations, crown lengthening, and as an adjunct to periodontal treatment. Since 2004, Dr. Kelly has worked with BIOLASE Research and Development as a chief clinical examiner and clinical trainer on both and diode and WaterLase laser systems. Over the years, Dr. Kelly has lectured at many MAACD, MAGD, WCLI events on the use of lasers in dentistry and how they can improve patient treatment outcomes consistently in less time than conventional treatment.

Dr. Mohamed Moataz Khamis is a graduate of Alexandria University, Egypt. He obtained his Masters Degree in Prosthodontics from Alexandria University after which he received his residency and fellowship in Maxillofacial Prosthetics from the University of Pittsburgh, USA. He then went back to Alexandria University where he obtained his PhD degree in Prosthodontics. He is currently a Professor of Prosthodontics and Vice Dean of the Faculty of Dentistry, Alexandria University. He is the director of the Fellowship Implant Certificate Program in Alexandria University. He is the Prosthodontic Speaker for the International Section of the German Board of Oral Implantology. He has many publications in national and international journals and has been a consultant, visiting professor, and examiner in multiple medical centers and universities both nationally and internationally. Dr. Khamis has presented and lectured on many topics and presentations in reputable national and international meetings and conferences. He is a member of multiple dental and implant associations and maintains a private practice in Alexandria, Egypt.

Dr. Kolnick is in private practice, limited to endodontics, in White Plains and Mt Kisco, NY. His practice is dedicated to fostering excellence in endodontics through education and the incorporation of state-of-the-art technology. In 2008, Advanced Endodontics of Westchester became the first laser-assisted endodontic practice in Westchester County and recently incorporated CBCT into both of its offices. Dr Kolnick lectures extensively on a local, national and international level and has published several articles on endodontics. In 2006, he formed the Advanced Endodontic Study Club of NY for general dentists, to foster the study, advancement and interchange of knowledge in the art and science of endodontics.

Dr. Labrecque is a graduate of the University of Saskatchewan. He received his Dental Degree in 1983 after he previously completely a BSC with Honors in Biochemistry. Immediately after graduation Dr. Labrecque opened his first private practice in Humboldt, Saskatchewan where he remained for six years. In 1989 he moved to Kamloops, BC where he currently resides and operates a general practice with his focus on lasers and minimally invasive dentistry. He has actively used lasers in his practice for the last 12 years, being one of the first dentists in Canada to incorporate the Waterlase in private practice. Dr. Labrecque is a founding member of the World Congress of Microdentistry. He received his Mastership in Laser Dentisty in 2010.

Samuel B. Low
DD, SMS, M.Ed
Samuel B. Low, D.D.S., M.S., M.Ed., Professor Emeritus, University of Florida, College of Dentistry; Associate faculty member of the Pankey Institute with 30 years of private practice experience in periodontics, lasers and implant placement. He is also a Diplomate of the American Board of Periodontology and past President of the American Academy of Periodontology. Dr. Low provides dentists and dental hygienists with the tools for successfully managing the periodontal patient in general and periodontal practices and is affiliated with the Florida Probe Corporation. He was selected "Dentist of the Year" by the Florida Dental Association, Distinguished Alumnus by the University of Texas Dental School, and the Gordon Christensen Lecturer Recognition Award. He is a Past President of the Florida Dental Association and past ADA Trustee.

Miguel Rodrigues Martins
DDS, MSc, PhD Candidate
Dr. Martins accomplishments include: Master of Science (MSc) Lasers in Dentistry – RWTH Aachen University, GermanyEuropean PhD Candidate (Lasers in Endodontics) – Porto University, Portugal; European Master Degree for Oral Laser Applications (EMDOLA), Liége – Belgium; Laser Safety Officer (LSO) – AALZ Institute, Aachen University; University Specialization in Oral Implantology – Universidad Santiago de Compostela, Spain; Doctor in Dental Sciences (DDS), Faculdade de Medicina Dentária, Porto University – Portugal. He is also affiliated with the Endodontic Department – Faculdade Medicina Dentária, Porto University, Portugal, the AALZ Institute, RWTH Aachen University, Germany and the University Specialization for Clinical Dentistry, Faculdade Medicina Dentária, Porto University.

Dr. Robert J. Miller is an internationally recognized lecturer, academician, author, and researcher. A 1981 graduate of New York University College of Dentistry, he completed a post graduate residency at Flushing Hospital and Medical Center. He has approached dental practice with a vision for incorporating advanced technology to provide paradigm changing dental medicine. Dr. Miller's private practice in Palm Beach, Florida includes a multidiscipline state-of-the-art facility including 3D imaging, lasers, and navigated implant placement. He is a Fellow American College of Dentists, Diplomate American Board of Oral Implantology, Honored Fellow of the American Academy of Implant Dentistry, and serves as Chairman of the Department of Oral Implantology at the Atlantic Coast Dental Research Clinic in Palm Beach, Florida.

Dr. Nurin, has been practicing periodontics in the same location since 1973. He has a B.S. degree, Doctor of Dental Surgery degree, and a Certificate of Periodontics from New York University. He is a charter member of the ALD, member of the ADA and AAP, and he has also served in the U.S. Navy. Dr. Nurin has lectured locally and throughout the country. He developed the protocol for the use of lasers in periodontal surgery and was the first periodontist to utilize the laser for periodontal surgery in a hospital setting and was the only periodontist routinely utilizing the laser in a six-state radius. Dr. Nurin was recently honored by being voted a Fellowship Member of the Pierre Fauchard Academy (The International Dental Honor Society). In October of 2004 Dr. Nurin was voted one of the top periodontists in Annapolis by the "What's Up Annapolis" magazine.

Jerry Peck, DLXT is the CEO of C-Dental and McCormack Dental Imaging. The company now consists of eleven labs in both Northern and Southern California. C-Dental and McCormack Dental Imaging are considered leaders in 2 and 3 dimensional imaging. Through the years, he has as remained at forefront of dental and maxillofacial radiographic technologies. His commitment to this field has driven the advancement of such technologies, particularly tomography. Mr. Peck has been providing diagnostic images to the dental and medical communities of the San Francisco Bay Area for over 30 years. From 1972-1974, Mr. Peck received radiographic training through a program offered at the University of the Pacific School of Dentistry. Nearly 30 years ago, he became the owner-operator of C-Dental X-Ray, Inc.

Dr. Marina Polonsky is a full time general dentist and owner of the Alta Vista Laser Dental Centre in Ottawa, Ontario. She graduated with Dean's Gold Medal from the University of Toronto, Faculty of Dentistry in 1999. She is a member of OKU Honour Dental Society. Dr. Polonsky has been a laser user since 2006, she received her fellowship with WCLI in 2011 and her mastership with WCLI in 2012. Currently, in her free time, she teaches introductory laser courses, live laser demonstrations in her office, laser safety courses, Diode laser certification courses and hard tissue laser certification courses. She is very proficient in all aspects of laser dentistry and has learned from such leaders in laser dental education as Dr. Bill Chen and Dr. Stewart Rosenberg and others.

Membre et ancien Président des JDIQ Dr Marc Robert a toujours donné un importance primordial à l'éducation continue. Utilisateur Laser depuis 2005 il a intégré cette technologie au point où il s'en sert à tous les jours dans tous les domaines de sa pratique généraliste. Conférencier invité à l'Universités de Montréal il donne une formation de base sur l'utilisation des lasers Erbium aux étudiants de 3e années. Dr Robert a obtenu son Mastership du World Clinical Laser Institut afin de pouvoir enseigné les cours de certification sur le laser Er:Cr:YSGG au Canada.

Dr. Stewart Rosenberg is a past president of the Academy of Laser Dentistry and currently serves on the board of the World Clinical Laser Institute. He is a founding member and past president of the World Congress of Minimally Invasive Dentistry. He is a fellow of the International Society of Laser Dentists, the American Society of Laser Medicine and Surgery, the International College of Craniomandibular Orthopedics and the AACD. He maintains a private practice in Laurel, MD and is an attending at John Hopkins Hospital.

Dr. Tzvi Rubinger, is a graduate of the University of Toronto Faculty of Dentistry in 1985. He has been in private practice since. Dr Rubinger practices all aspects of dentistry and provides a full range of "specialty" procedures. Dr. Rubinger adopted BIOLASE laser dentistry in 2006 and has trained with many internationally renowned dentists and dental specialists. Through his extensive training, he uses lasers in periodontal, endodontic, surgical and implant procedures as well as restorative dentistry. Dr. Rubinger received a Mastership certification from the World clinical Laser Institute and has been certified a trainer in Waterlase dentistry. He is currently the only dentist in Ontario to hold the above certifications.
Dr. Patrick Ruehle grew up in Duncanville, Texas and graduated from Duncanville High School. After graduating from Texas A & M University, Cum Laude, with a B.A. in Biology, he attended Baylor College of Dentistry in Dallas. Dr. Ruehle graduated from Baylor in 1983 and associated with Dr. Rodney Teague, in Duncanville, for three years before assuming the practice when he retired. While practicing dentistry for the last 28 years, Dr. Ruehle has attended hundreds of hours of continuing education covering all aspects of general dentistry. These courses include cosmetics, minimally invasive, painless laser dentistry, oral surgery, advanced restorative dentistry, sedation, oral pathology, prosthetics, and numerous others. In addition, he has been recognized by the World Clinical Laser Institute (WCLI), and with Fellowship awards by the Misch Institute for Advance Implant Dentistry, the American College of Oral Implantologists, and the International Congress of Oral Implantologists. Dr. Ruehle has also been a presenter for Laser technology at the Southwest Dental Conference. He is a member of the American Dental Association, the Texas Dental Association, the American Academy of General Dentists, and the Denton County Dental Association.

Dr. Les Rykiss, a Winnipeg native, received his Doctorate of Dental Medicine from University of Manitoba in 1990, and immediately went into practice. He was an Associate Professor of Pediatric Dentistry at his alma mater from 1996-1998. Dr. Rykiss earned an Associate Fellowship at the World Clinical Laser Institute (WCLI) in 2007, and attended the Esthetic Epitome Continuum at the Nash Institute for Dental Learning in 2008. He holds memberships to the following professional associations: Alpha Omega Dental Fraternity, Past President, Manitoba Dental Association, Canadian Dental Association, and Canadian Academy for Esthetic Dentistry and Winnipeg Dental Society. 

Maria del Pilar Martin Santiago
MD, DDS
Dr. Maria del Pilar Martin Santiago is a doctor in Medicine and Dentistry. She received her Certificate of Competence in Laser Medicine and Surgery, and European Master Degree in Laser and Phototherapy Dermatology from Medical College of Barcelona. Dr. Pilar Martin is a speaker, professor and author of posters at various congresses, events and courses related to applications of lasers in Medicine and Odontology.

Dr. Rudolf Verdaasdonk is the director and full professor of the Department of Physics and Medical Technology at the VU University Medical Center and also associated to the Institute LaserLaB of the Department of Physics at the VU University in Amsterdam, The Netherlands. He is involved in the Biomedical Optics field for over 25 years. He has an extensive experience in medical laser applications. He is specialized in fiber delivery systems and visualization techniques of laser-tissue interaction for applied research, education and to improve clinical applications. Part of his research interest involves lasers in dentistry with the focus on the mechanism of root channel treatment and diode laser applications.

Christopher J. Walinski
DDS
Dr. Walinski is an author, instructor and innovator in laser dentistry. His text on laser dentistry has been published in ten languages. In addition, Dr. Walinski has published numerous peer-reviewed laser and oral-systemic/total patient health articles in journals throughout North America, Australia, Europe and Asia. He is a Diplomate and Past-President of the World Congress of Minimally Invasive Dentistry, and is the only American representative on the Editorial Board for the International Society for Oral Laser Applications in Vienna, Austria. He was a founder of, and has achieved Mastership Status from the World Clinical Laser Institute and Laser Certifications through the Academy of Laser Dentistry. Dr. Walinski maintains a private practice in San Diego and is Adjunct Professor at The Ohio State University College of Dentistry in the Department of Primary Care.

Prof. Laurence Walsh holds a personal chair in dental science, and has been the Dean of the University of Queensland School of Dentistry in Brisbane, Australia since 2004. He has been involved in clinical laser dentistry and in laser research for 20 years, and has published extensively in this field. He has also authored 6 patents in advanced dental technologies. Laurence is a board-registered specialist in special needs dentistry and maintains a part-time specialist private practice in Brisbane.
NOTE: Speakers vary from event to event and may be substituted without prior notice.
Patient Protection and Affordable Care Act
Effective August 1, 2013, the World Clinical Laser and Imaging Institute and BIOLASE, core sponsor of the WCLI, is required to operate under full compliance of Section 6002 (the "Sunshine Act") of the Patient Protection and Affordable Care Act ("Affordable Care Act"), which requires all medical device manufacturers to report to the U.S. Department of Health and Human Services regarding any "transfers of value" to covered recipients, which include customers or prospective customers of BIOLASE, that may occur within a calendar year. These transfers of value may include gifts, meals, or travel, as well as financial compensation of any kind.
The Secretary of the Department of Health & Human Services will make the reported information available through a searchable web site beginning in 2014. To read the final ruling of the Affordable Care Act in its entirety, you may visit the U.S. Department of Health and Human Services web site and to read the final ruling on implementation of the Sunshine Act you may visit http://federalregister.gov/a/2013-02572.