Cyprus    May 24 – 25, 2019
Crowne Plaza Limassol

The World Clinical Laser Institute (WCLI) is putting on a symposium focused on laser application in periodontology, implantology, endodontics, restorative dentistry, pain therapy and others. The WCLI's Europe Forum will feature educational content suited for every dental professional.
This event will also include fascinating keynote addresses from leaders in the dental world, along with multiple social and networking opportunities to relax and make new friends while learning about new groundbreaking dental technologies. The WCLI's Symposiums are one of a kind in the dental profession! We look forward to seeing you there!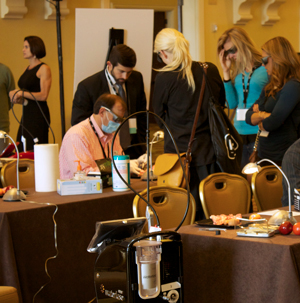 The World Clinical Laser Institute (WCLI) is more than an educational association of dentists seeking clinical knowledge and tips on the latest technologies in dentistry. The largest group of its kind, the WCLI is a closely knit network of thousands of dental professionals who share a passion for improving the patient experience, elevating their clinical results to the highest level, and building the best possible practice they can.
The WCLI has been putting on world-class educational events for over ten years. At WCLI's Europe Forum, dental professionals will improve their knowledge and techniques for established laser procedures, such as laser-assisted periodontal treatment, endo, implant placement, pain therapy and cosmetic dentistry.
Above all else, the Europe Forum is a great place to see old friends, meet new colleagues and forge friendships with mentors from around the world.
It's a weekend of education and fellowship. Register today; don't miss out!
WCLI 2019 Europe Forum
May 24-25, 2019
Crowne Plaza Limassol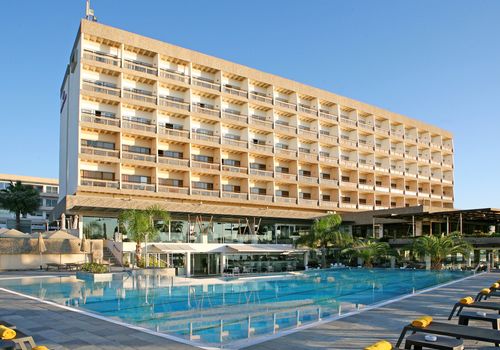 Limited-Time Special Price
200 Euros per night, 2 guest with Breakfast
Offer Expires March 1, 2019
DOCTORS: Pre-Registration

395 Euro

Register by March 30, 2019 to recieve the Pre-Registration discounted tuition cost.

DOCTORS: General Registration

595 Euro

Register after March 30, 2019 to receive the General Registration tuition cost.

RDH/Office Staff/Student: General Registration

250 Euro

Tuition cost for Dental Hygienists, office staff members or current dental students.
Prices including meals, coffee breaks and Gala Diner on May 24, 2019, 20:00.
Cancellation Policy – Refunds less a $150.00 cancellation fee will be given for cancellations received in writing to info@wcli.org prior to August 30, 2019. Following this date, no refunds will be given, but a credit
will be issued to use towards another event within one year.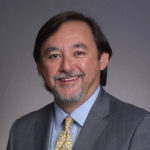 Dr. Christopher J. Walinski
Christopher J. Walinski, DDS has been an author, inventor and innovator in Laser Dentistry for over two decades.  His 2003 text on laser dentistry has been published in over ten languages.  He is the Executive Director of the World Clinical Laser Institute; the largest organization of its kind and is a Founding member of the American Academy of Oral Systemic Health.  Chris is past Editor-in-Chief of the Journal of Laser Assisted Dentistry, and is a Diplomate and Past-President of the World Congress of Minimally Invasive Dentistry.
At The Touro College of Dental Medicine, he is an Associate Professor and Laser Safety Officer.  He is also a Visiting Professor at Taipei Medical University College of Oral Medicine, and frequent lecturer at Harvard University, emphasizing dentistry using lasers and other minimally-invasive techniques.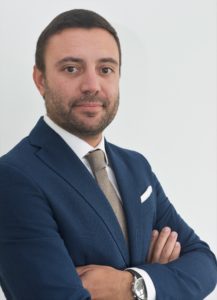 Dr. Miguel Rodrigues Martins
Doctorate (PhD) Lasers in Endodontics FMDUP Universidade do Porto – Portugal
Master of Science (MSc) Lasers in Dentistry RWTH Aachen University – Germany
» University Specialization in Oral Implantology – Universidade Santiago de Compostela, Spain
» Laser Safety Officer (LSO) AALZ-Aachen University
Country Representative- World Federation for Laser Dentistry (WFLD) Vice-President – Portuguese Society for Medical Lasers (SPILM)
Academic Co-Worker & Lecturer Aachen Dental Laser Center, RWTH Aachen University – Germany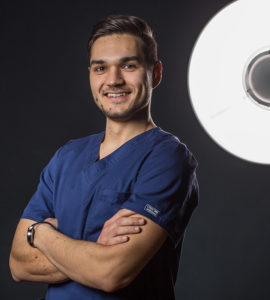 Dr. Alin Alexandru Odor, DDS, MSc, PhD(c) received his dental degree (DDS) from Ovidius University of Constanta – Faculty of Dental Medicine, Romania in 2012. As a student, he was interested in dental laser treatments and presented his graduation thesis "Study regarding the efficacy and therapeutic possibilities of Erbium and Nd:YAG lasers". In 2014 he received his Laser in Dentistry Mastership degree from Aachen Dental Laser Center, RWTH Aachen University, Germany. From the beginning of 2015 he started his periodontology residency program at Gr.T.Popa University of Medicine and Pharmacy Iasi, Romania and graduated as a periodontology specialist in 2017. Also, in 2017 he obtained his Master of Science degree in "Oral Rehabilitation with implant aggregation" form Titu Maiorescu University, Faculty of Dental Medicine.
In 2013 he started his PhD research entitled "Study regarding the optimization of periodontal treatments using dental lasers" being a PhD candidate in late 2018.
During all this years, Dr. Alin Alexandru Odor attended national and international congresses as an invited speaker and published several articles in the field of laser in dentistry.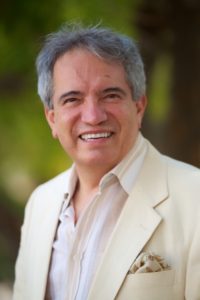 Mario A. Trelles, MD PhD, is internationally renowned for his expertise and contributions to laser advancements in medicine and surgery. He received his medical degree and specialized general, plastic, aesthetic and reconstructive surgical training at the University of Barcelona, Spain, and his PhD. doctorate in medicine and surgery at the University of Seville. Dr. Trelles has since shared his experience, both as a professor at various European universities and by writing and editing books and over 350 scientific manuscripts on advances in laser. He has held executive positions at numerous professional medical organizations, including present terms as President of the European laser Association (ELA) and the Spanish Society for Laser in Medicine and Surgery (SELMQ); also Honorary President of the European Society for Laser Aesthetic Surgery (ESLAS) and is a member of societies around the globe devoted to medicine, laser therapy, anti-aging and aesthetic surgery. He is currently also Honorary Member of various International Medical Societies and visiting professor of various international Universities.
He has been awarded for Excellence in Cosmetic Surgery by the American Academy of Cosmetic Surgery and honored with the Medaille de la Cité de Marselle (France), and the Gold Medal of the cities of Cambrils (Spain), and Piura (Peru), for his contribution to medicine.
Dr. Trelles is currently Professor and Chair  of the Master Diploma "Laser Applications in Surgery and Medicine" at the Official Medical School & University of Barcelona, and is the President of the Board of Trustees of the Antoni de Gimbernat Foundation, and the Medical Director of Vilafortuny Medical Institute in Cambrils (Tarragona) This Center participates in the European Community Project, "Training Centers for Laser Applications in Medicine".
General Applications of Diode 940 in Dentistry — Dr. Chris Walinski
A New Therapeutic Approach for 940 Diode Laser in Periodontal Treatment — Dr. Alin Alexandru Odor
Diode 940 LLLT and Whitening — Dr. Chris Walinski
The Use of Dual Wavelength in Endodontics Treatments (Er,Cr:YSGG & 940) — Dr. Miguel Rodrigues Martins
General Application of the Er,Cr:YSGG in Dentistry. Cariology, Cavity Preparation and Hard Tissue Therapy with Er,Cr:YSGG Laser — Dr. Chris Walinski
Laser Physics and Tissue Interaction (WCLI Associate Fellowship Exam Review) — Dr. Chris Walinski
WCLI Associate Fellowship Exam — Dr. Chris Walinski
The Use of Dual Wavelength in Periodontal Treatments (Er,Cr:YSGG & 940) — Dr. Alin Alexandru
Peri-implantitis Treatments with Er,Cr;YSGG— Dr. Miguel Rodrigues Martins
Overview of Dermatology Applications with Er,Cr:YSGG with the New Waterlase Fractional Handpiece.  Part I — Dr. Mario Trelles
Dermatology Applications with Er,Cr:YSGG with New Waterlase Fractional Handpiece.  Part II — Dr. Mario Trelles